This Week at ADB, Inc., 5-11 March 2017
Steve Cole reports:
This was a week of furious work to finish Captain's Log #52. When we walked out of the office Saturday night, we had the complete book on the table with 14 pages marked for minor typo corrections. We also announced plans to open a store on Shapeways to sell starships.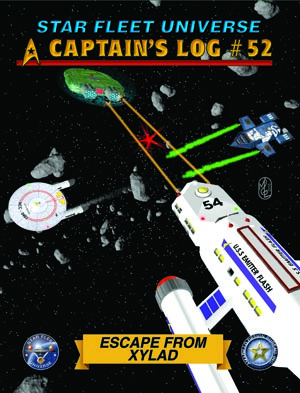 We sent out Hailing Frequencies and Communique #135 on the 10th. We've been on schedule for so long now we don¹t count the months any more.

I'm sure there was weather of some sort this week, but we were too busy to notice..

Steve Cole worked on Captain's Log #52, the two newsletters, blogs, and too many other things (such as figuring out the cost data and prices for the new Starline 2425 freighters. He was sick with a virus for two days.

Steven Petrick worked mostly on
Captain's Log #52, but did a little on the Lyran Master Starship Book, Captain's Log #53, quality control assembly and shipping, and the LDR
Master Starship Book.
Leanna kept orders and accounting up to date.

Mike kept orders going out and rebuilt the inventory.

Simone did website updates, sent out the newsletters, and worked on some graphics.

Wolf guarded the office, chasing away a small herd of elephants

Jean worked on the GURPS Prime Directive revision, managed our page on Facebook (which is up to 3,717 friends), managed our Twitter feed (220 followers), commanded the Rangers, dealt with the continuing spam assault on the BBS, managed the blog feed, proofread
Captain's Log #52 and Communique #135, worked on Hailing Frequencies, took care of customers, and did some marketing.